An Introduction to
SwimRun
in
Trails

Guide
®
could only begin with an interview of one of the creators of the sport, Michael LEMMEL answers some questions
Une Introduction au
SwimRun
dans le
Guide
des
Trails
®
ne pouvait commencer que par une interview d'un des créateurs de ce sport, Michael LEMMEL répond à quelques questions
Interview original de
MICHAEL LEMMEL
|

Race Director & Founder of Swimrun |
—————————————————————————————

—

—

—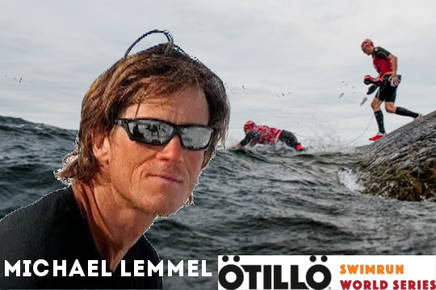 Facebook : ÖTILLÖ
Traduction en Français ( en bleu)
[en-EN] The Swimrun discipline born 10 years ago in competition will propose in 2017 already more than 200 races in the world, how do you see the future in number of race and practitioners?
ÖTILLÖ, the origin of Swimrun was held for the first time in 2006. In 2016 there have been more than 250 races around the world. In 2017 there will be more than 400 races. The number of participants will be close to 30 000 persons in 2017. The sport is getting more known in more places in the world. This means that there will be similar growth for 3 - 5 years to come. The market will then mature and change.
[fr-FR] Le Swimrun discipline né il y a 10 ans en compétition proposera en 2017 déjà plus de 200 courses dans le monde , comment voyez vous l'avenir en nombre de course et de pratiquants?
ÖTILLÖ, l'origine de Swimrun a eu lieu pour la première fois en 2006.
En 2016 il y a eu plus de 250 courses autour du monde.
En 2017, il y aura plus de 400 courses. Le nombre de participants sera proche de 30 000 personnes en 2017.
Le sport est de plus en plus connu dans plus d'endroits dans le monde. Cela signifie qu'il y aura une croissance similaire pendant 3 à 5 ans à venir. Le marché va alors mûrir et changer.
[en-EN] Do you think that it is necessary to open the discipline to a practice in solo mode or to preserve the discipline in the original spirit in team mode duo?
Swimrun is a duo sport. We will never get involved in solo as it removes the 3 most important parts of Swimrun being - safety, sharing the experience and being able to go further as you are two. Solo is a way a lot of people train but racing- wise it becomes too much like triathlon where the result is more important and you loose the spirit of Swimrun.
[fr-FR] Pensez vous qu'il faille ouvrir la discipline à une pratique en mode solo ou bien restreindre la discipline dans l'esprit d'origine en mode équipe duo ?
Swimrun est un sport duo. Nous ne serons jamais impliqués dans le solo car il supprime les 3 parties les plus importantes de Swimrun être - la sécurité, le partage de l'expérience et d'être en mesure d'aller plus loin que vous êtes deux. Solo est un moyen pour beaucoup de gens de s'entraîner, mais en course, il devient trop comme triathlon où le résultat est plus important et vous perdez l'esprit de Swimrun.
[en-EN]Do not you think that the qualification system and qualifying races give too elitist a picture to a sport that was initially a challenge, or the only goal was to finish?
It is the only way we can manage the interest to participate in ÖTILLÖ as we have a limited number of spots. It is also the reason why we have seen growth of the sport as we have worked very hard with PR to develop new locations and bring the sport to more people. As the sport develops there are plenty of races where you can participate - the ÖTILLÖ Sprint series for example.. Evolution needs a strong leading brand to be able to build a broad base.
[fr-FR]Ne pensez vous pas que le système de qualification et courses qualificatives ne donne une image trop élitiste à un sport qui au départ était une défi, ou le seul objectif était de finir ?
C'est la seule façon de gérer l'engouement de participer à ÖTILLÖ car nous avons un nombre limité de spots. C'est aussi la raison pour laquelle nous avons vu la croissance du sport comme nous avons travaillé très dur avec PR pour développer de nouveaux emplacements et proposer la compétition à plus de gens. Au fur et à mesure que le sport se développe, il ya beaucoup de courses où vous pouvez participer - la série ÖTILLÖ Sprint par exemple .. Evolution a besoin d'une marque forte et leader pour pouvoir construire une base large.
[en-EN] The Italians began to propose formats well established in distance like on the triathlon, do you think that it is a good thing or a drift?
It is a format that does not work everywhere as nature looks different. Every development of the sport of Swimrun (duo races) is good. However, it is important that it stays being Swimrun and not something that is called Swimrun to follow a trend.
[fr-FR] Les italiens ont commencé à proposer des formats bien établis en distance comme sur le triathlon, pensez vous que c'est une bonne chose ou bien une dérive ?
C'est un format qui ne fonctionne pas partout car la nature est différente. Chaque développement du sport de Swimrun (les courses de duo) sont bon. Cependant, il est important que le Swimrun reste ce qui l'est et non quelque chose qui s'appelle Swimrun juste pour suivre une tendance.
[en-EN] What are ÖTILLÖ's goals for the next 3 years?
The ÖTILLÖ Swimrun World Series will hopefully grow with two or more destinations if we can find the right locations, the financing and if we have the organisation to handle it. We are not in a hurry, we want to do things very well.
[fr-FR] Quels sont les objectifs d'ÖTILLÖ pour les 3 ans à venir ?
Nous espérons que la ÖTILLÖ Swimrun World Series se développera avec deux ou plusieurs destinations si nous pouvons trouver les bons emplacements, le financement et l'organisation pour les gérer. Nous ne sommes pas pressés, nous voulons faire les choses très bien.
[fr-FR]
Un grand merci à Joséphine As et Michael LEMMEL de toute l'équipe du
Guide
des
Trails
®
Nous souhaitons à
ÖTILLÖ et au Swimrun une grand décennie de développement.
[en-EN] A big thank you to Joséphine As and Michael LEMMEL of the whole team of the Trails Guide®
We wish ÖTILLÖ and Swimrun a great decade of development.